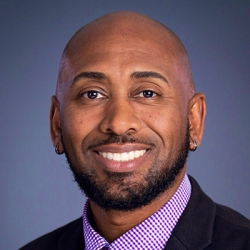 Frederick Smith
Associate Vice President, Equity & Community Inclusion
Phone: (415) 338-7290
Email: fredericksmith@sfsu.edu
Dr. Frederick Smith is SF State's Associate Vice President for Equity & Community Inclusion. Previously, he served as the Director of the Cross Cultural Centers at Cal State LA from 2006 - 2019.
Dr. Smith's research and professional interests focus on higher education and include: co-curricular learning experiences; the role of ethnic studies and cultural centers in student identity development and confidence building; campus climate experiences of historically marginalized and minoritized communities; retention and graduation of students of color in higher education; and collaborations between student affairs and academic affairs units for student success.  Fred has a strong professional background developing collaborative programs, events, services, dialogues, and celebrations that bring the campus community together. 
Smith has served twice as president of the California Council of Cultural Centers in Higher Education (CaCCCHE). He is active with the National Conference on Race and Ethnicity in Higher Education (NCORE), NASPA – Student Affairs Administrators in Higher Education, and American College Personnel Association (ACPA).
Outside of higher education, Fred enjoys reading and writing fiction. He's written and published several novels – In Case You Forgot (2019), Play It Forward (2015), Right Side of the Wrong Bed (2009), and Down For Whatever (2005) – that focus on queer people of color characters.
Smith received his B.J. in Journalism/TV News from the University of Missouri School of Journalism. He completed his M.Ed. in Higher Education at Loyola University Chicago. He earned his doctorate in Educational Leadership for Social Justice at Loyola Marymount University.