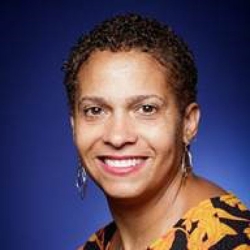 Ingrid Williams
Associate Vice President, Human Resources
Phone: (415) 338-1872
Email: icwilliams@sfsu.edu
Dr. Ingrid C. Williams, associate vice president of human resources, oversees core human resources functions at the University, including Employment Services; Employee and Labor Relations; Compensation and Benefits Administration; Payroll Services; Professional Development; and HRIS. Prior to joining SF State, Williams served as Sr. AVP of Human Resources, Diversity & Inclusion and Administration at California State University Maritime Academy. Under her leadership, she oversaw both Human Resources and Faculty Affairs. In addition, she served as the University's Title IX/ DHR Administrator and  Chief Diversity Officer working with campus constituencies to promote diversity and inclusion through policy review and development; recruitment and retention; data analysis; and collaboration and advocacy.   She led the development of the Human Capital Management Strategic Plan. Williams was a member of the President's Cabinet, Campus Leadership Council, Campus Planning Council, EOC Team and served as a member of the Unity Council. 
Dr. Williams has worked in higher education for over 25+ years.  Prior to joining the CSU in 2012, she served in various leadership roles in Human Resources during her previous employment at Santa Clara University and University of San Francisco. 
A native of Louisiana, Dr. Williams received her BA in English/Writing from Loyola University in New Orleans.  She received her MFA in Creative Writing and her Ed.D. in Organization and Leadership from University of San Francisco.